Managing a Products Catalog
If your website contains a catalog of products, we will do the initial setup for you. We use the Woocommerce plugin – the industry-standard – which allows you to either sell products online, or simply display them so visitors can browse the catalog without purchasing items.
Below you will find instructions on how you can manage a "browse-only" catalog. You will be able to easily add new products, edit categories and sub-categories and more, without the need to learn any programming.
Login to your website's Admin, and from there select Products > Add New.
Type or paste the product Name into the field.
Type in or paste the Description into the editor. Keep the formatting simple: do not justify paragraphs, and use bold and italics very sparingly (if at all).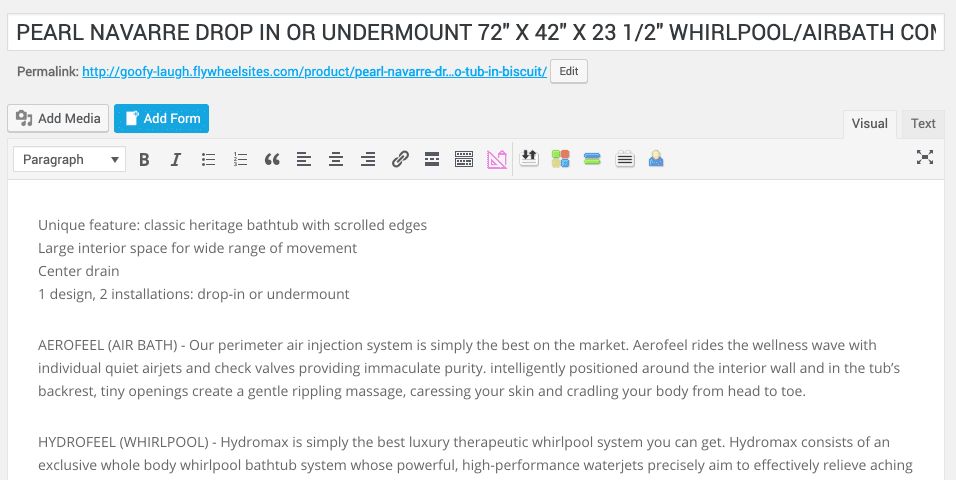 If your catalog uses SKUs or reference codes, scroll down a bit and you will see the box shown below. Select the Inventory tab, and type in/paste the SKU of the product:

On the right sidebar, check the Category(ies) or Subcategory(ies) to which the product belongs. If one needs to be added, you can do so from there as well: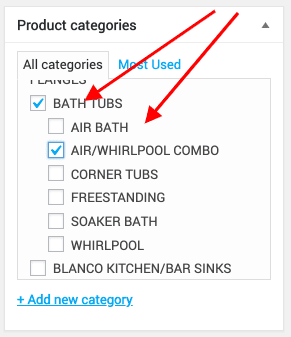 Scroll down a bit, and click Set Product Image. The Media Library will open, allowing you to either select an existing image or upload a new one.

Finally, scroll back up and click the Publish button. Notice that you can choose to either publish immediately (the default) or set the publication for a future date, as well as other options.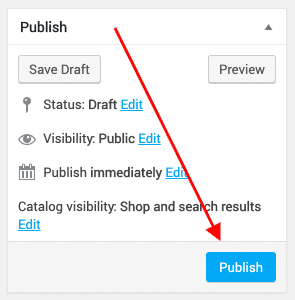 If you need to modify the product categories, go to Products > Categories.
You will see all the existing categories listed on the right. If you would like to edit a category name or its parent category (if it's a sub-category) click its name and make the changes as needed. When done, click the Update button.
To add a new category, type its name in the field. If you're adding a sub-category, select its parent category from the dropdown menu; otherwise leave it as None.
Unless your website uses featured images for categories (most don't) leave that and the remaining options unchanged.
Simply press Enter, or click the Add New Category button at the bottom and the new category will be added.